This sports coupe is a pleasure to drive and offers one of the greatest bang for the buck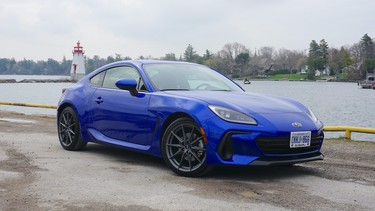 content of the article
You won't find the term "simple indulgence" in any dictionary, so it can mean a great many things, from something as innocuous as a cold beer on a hot summer's day, to a more quintessential moment like watching the sun set with a loved one or a morning walk along a sandy beach. From an automotive perspective, I'd like to think that it means any car – but preferably a relatively inexpensive one – that fully engages the driver and leaves one yearning to explore less traveled roads.
content of the article
In over 40 years of testing vehicles, I've experienced more than a few simple joys, but the ones that come to mind share common traits alongside affordability – manual transmission and light weight are the two big things . Oh, plus the fact that none of those memorable performance-oriented sports cars/coupes/hatchbacks – the Toyota Corolla GT-S and MR2, VW Rabbit/Golf GTIs, Mazda's first-gen RX-7, the Zoom-Zoom company's beloved Miata ( I own one), BMW's Mini Cooper, Ford's Fiesta ST – are/were blessed with an overabundance of muscle – less than 200hp in most cases. Still, each left a deep impression that can be summed up succinctly as the visceral experience of driving a moderately fast car with confidence.
content of the article
To that list I happily add Subaru's revised second-generation BRZ and, by extension, its corporate collaborative twin, the Toyota GR86. I really like the first generation BRZ, the rules for a sporty machine front and center – classic GT look thanks to long hood and short deck, light weight, rear wheel drive, superior handling and grip, powerful engine and affordability. It wasn't perfect by any means, the downsides being a rather harsh engine tone at higher revs, a boxy shifter and extremely minimalist.
For the 2022 model year, the 2+2 BRZ offers more performance (thanks) through a new engine, a revised, cleaner design, 50 percent more rigidity and an improved interior. Oh, and the standard six-speed manual transmission. Seriously, how can it get any better? Well, it's still noisy, stiff, and a bit cramped. So, yes, there is pain that comes with pleasure. It's a matter of priorities. Do you want posh manners, weight and complexity or simplicity and rawness, a low, low center of gravity and an almost direct connection to the road, ass to tarmac so to speak?
content of the article
If you vote for the latter, it doesn't get much better than the BRZ. Starting at less than $30,000 for the base model, even the higher-end Sport-Tech Tester ($32,495 for the six-speed manual and another $2,400 for the automatic) is dirt cheap for the experience on offer.
content of the article
Let's start with the brand new, larger 2.4 liter boxer four replacing the old 2.0 liter engine. The naturally aspirated, direct-injection, direct-injection engine produces a solid 228 hp at 7,000 rpm and 184 lb-ft of torque, versus 205 hp and 156 lb-ft for the previous-generation manually equipped car. In addition to the updated six-speed manual transmission, the BRZ is available with an upgraded six-speed automatic with paddle shifters and one-stop downshift controls. (But if you go with the automatic, shame on you.) A limited-slip differential is standard regardless of transmission.
At a time when automakers are ramping up production of electric vehicles in earnest, I think that if not now, the BRZ will soon be compared to this form of propulsion, a case of the old guard in a valiant battle with the new. And at face value, even prosaic electric vehicles – not to mention the high-performance versions – can easily reach 100 km/h in five seconds or less, making the BRZ's low six-second charge feel like a retro walk to the century on the milder side. But it is not. No EV can duplicate the boxer's coarse growl as you step on the accelerator and the speedometer needle oscillates linearly up to its 7,500-rpm rev limit. (Unlike the old 2.0-liter, there's no midrange stumble mid-range.) Loud, gritty, primitive? Yes, suck it up and enjoy the show.
content of the article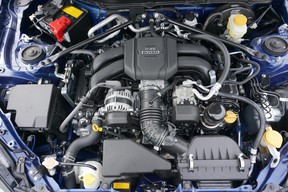 The six-speed stick also contributes to the enjoyment. Short throws, closely spaced gates, and very precise clutch pickup make rowing through the gears a chuckle, save for bolt action when the lever engages. Be firm, not awkward, and you'll get out of your way to find winding tarmac sections to practice your heel-and-toe downshifts.
Handling the BRZ is up to the task. First off, the new model stays sleek, using elements like the aluminum hood, roof and fenders that help Subaru say it's the lightest 2+2 production rear-wheel-drive sports car in the country anyway – as in at less than 1,280 kilograms, despite the added safety features within about 10 kilograms of the previous generation. Coupled with the same front-to-rear weight distribution as the original model, the results guarantee more agile handling.
content of the article
First drive: 2022 Subaru BRZ

Battle of the four-cylinder Toyota sports cars: Supra vs. GR86
The MacPherson strut front suspension features specially designed struts that maintain long travel for improved handling "and ride quality," Subaru says, although the latter is a matter of interpretation. Yes, the multi-link rear suspension system offers excellent shock absorption, which improves tire grip on different road surfaces. But the word "pampering" will never cross your lips when you recommend the many advantages of the car to curious passers-by.
No such compromise to the BRZ's electric power steering, however. There's plenty of feedback, and the fast 13.5:1 steering ratio and small-diameter steering wheel deliver quick steering response as you dive into a series of S-curves. And when you hit the Sport-Tech, Michelin Pilot Sport 4 adds rubber, a big plus. (Note: as much as the sports coupe deserves to be slammed around a tight racetrack, Subaru Canada politely but firmly insisted that no track testing be conducted.) The vehicle stability control system, however, offers five different settings, with the system designed to take more input from the allow drivers.
content of the article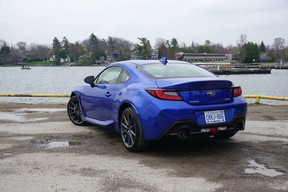 However, the one thing guaranteed to keep your horn at bay is the ever-rising price of fuel. As you can see, the BRZ's energetic four-cylinder runs on premium fuel. And while the sports coupe isn't particularly filthy — I averaged 25 gallons/100 km during my week of driving, mixing highway trips with city driving — it was still over $100 (back then) to celebrate its 50th birthday to fill -liter tank.
Inside, the new "premium" interior – with plenty of plastic – is focused entirely on the driver. The BRZ's seating position is low, making finding the corners of the BRZ difficult, a problem when parking, not to mention a less dignified affair when attempting to clear the car, especially if you happen to be sitting on the larger side. However, the contoured sport-bucket seats are supremely comfortable and hug the driver and passenger in all the right places. Forget the back seats; they are only good for storing the sports bag or to take with you. The 7.0-inch digital dashboard is dominated by a center-mounted speedometer/tachometer setup with a configurable display that can switch to show amps, water temp, or a G-Force gauge. When the BRZ is placed in track mode, the tachometer changes to a linear graph with a color display for quick reading. And toasting the Sport-Tech appointments means heated leather and Ultrasuede front seats and an eight-speaker amplified audio system. A three-year free trial of Subaru StarLink, side/rear vehicle recognition, and LED headlights that respond to steering round out the upgrades.
So what's the result? Beyond the BRZ's good looks – sculpted and aggressive without being over the top – what matters is its superior human-machine interaction: drive the car well and you'll be rewarded for the effort. Conversely, drive it badly and it will make sure you know you screwed up. You seek that connection and that reward. Sure, there are many more sophisticated and faster sports cars out there, but few offer you a purer experience or greater value for money.