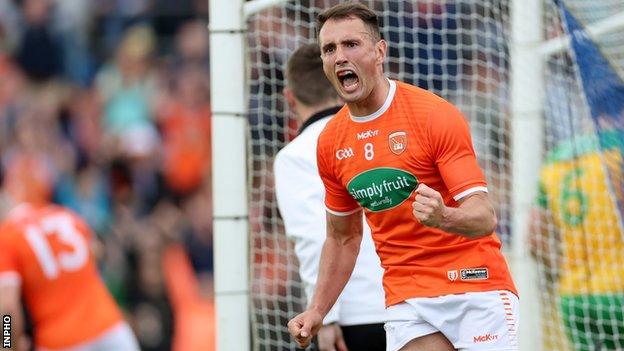 Venue:
Croke Park, Dublin
Date:
Sunday June 26th
throw in:
13:45 CET
Cover:
Live audio stream and text commentary on BBC Sport's website.
Armagh's All-Ireland-winning goalkeeper Benny Tierney believes Orchard County will go into Sunday's quarter-finals against Galway as narrow favorites.
The third round of 16 of the weekend is widely regarded as the most difficult one to decide, with teams barely separated on paper.
Winners face Derry or Clare for a spot in the All-Ireland final.
"Galway are a Division Two team and we're a Division One team, but they're just as good as us," Tierney said.
He added: "The bookies have it 50/50 and I think that's a real decision.
"As we've come back in the last two games and Galway haven't had competitive football lately, I think we're slight favorites for this game."
Tierney spoke to Oisin McConville, a former Inter-County team-mate, and Thomas Niblock about a special bonus episode of the GAA Social, airing on BBC Radio Ulster on Saturday 25 June at 14:00 BST.
After an impressive league season that included victories over Dublin at Croke Park and reigning All-Ireland champions Tyrone, Armagh were touted by many for an extended championship run but fell at the first hurdle in Ulster with a weak quarter-final loss to Donegal at Ballybofey.
However, Kieran McGeeney's side rediscovered their form earlier in the season in a rousing run out the back door, sweeping Tyrone aside before seeking revenge on Donegal.
"I was at Ballybofey and it was horrible, it was a horrible game and Armagh was very bad. The setup was bad and it didn't look like the plan was going to work," Tierney said.
"As much criticism as Geezer [McGeeney] and the Armagh management team came to Donegal, they deserve immense credit for what they have done since.
"They changed the plan, the system and the style of play.
"They played like that in the league. For some reason this always happens: you play a certain style in the league and things are going very well and then you say 'right, we're in the league and it's knockout, let's tighten that up'.
"We looked unimaginative in Ballybofey and that has changed immeasurably since."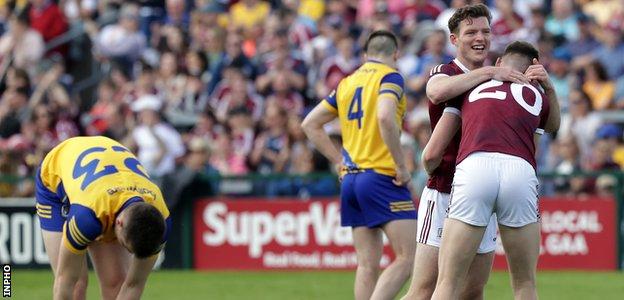 Galway have also had an impressive season so far, securing promotion to Division One before claiming their first Connacht title in four years with a deserved win over Roscommon.
With powerhouses Dublin and Kerry on the other side of the draw, there's a huge opportunity for Armagh, Galway, Derry and Clare – one of whom will make it to the final on July 24.
"Obviously when the draw broke you wanted to avoid Kerry and Dublin, I think that's a step too far for us at this point," Tierney continued.
"Armagh is playing with a bit of vigor again, like at the beginning of the season, so I'll give us every chance."