Nottingham Forest sealed their return to the Premier League after a 23-year absence thanks to a 1-0 win over Huddersfield at Wembley.
Levi Colwill's own goal after 43 minutes was the difference between the sides in Sunday's Championship play-off final, meaning Forest will play in the top flight for the first time since 1999.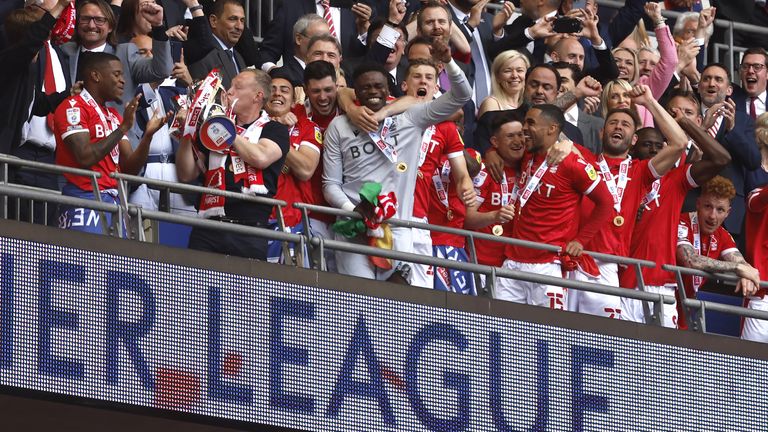 It ends a remarkable season for Forest, who were bottom of the table after eight games when Steve Cooper took over at the end of September.
Huddersfield, meanwhile, sees his dream of returning to the Premier League after three years coming to an end.
How Forest sealed her top return
Just before half-time, Forest broke through the unfortunate Colwill, who accidentally deflected a James Garner shot into his own net with an outstretched leg, leaving Lee Nicholls helpless in the Huddersfield goal.
Struggling to create chances, Huddersfield threw up their semifinal matchwinners Jordan Rhodes and Duane Holmes with a quarter of the game left to try to find a way back into the game.
Statistics after the game
Nottingham Forest will play in the Premier League for the first time since 1998/99 next season. Their gap of 23 seasons between Premier League seasons is the longest for any club.
Since the old stadium was built in 1923, Huddersfield Town have become the first club side not to score in four consecutive visits to Wembley Stadium.
Nottingham Forest have been crowned champions/promoted in nine of their 12 games at Wembley, where they beat Southampton in the Full Members Cup final for the first time since 1992.
The team, which finished fourth in the championship, has earned promotion in four of the last nine seasons after failing to do so at all for 15 consecutive seasons between 1998-99 and 2012-13.
They finally pulled in behind Forest a short while later as Holmes sped in and found Harry Toffolo in the middle. He then appeared to go to ground under a challenge from Jack Colback, but referee Jon Moss deemed it a dive and booked the Huddersfield man – with a VAR check then upholding his decision. Appeals were also dismissed for a later appeal when Max Lowe clashed with Lewis O'Brien in the pits.
And that would be that for Huddersfield's challenge, in a disappointing conclusion to an otherwise unexpectedly brilliant campaign from Carlos Corberan's side.
Should Huddersfield have had two penalties?
The fact is that Huddersfield Forest hardly worried in open play for the whole 90 minutes at Wembley, but they might have felt they should have been penalized twice in the closing stages of the second game.
At the first event, Toffolo was booked to dive after apparently being cut off by Colback, at the second when O'Brien was felled by Max Lowe in the box. Referee Moss was again uninterested.
Nottingham Forest legend Stuart Pearce on Sky Sports Football:
"I think there's a contact. I would have given a penalty for that. I think there's an element of frustration that the referee wasn't asked to go to his monitor to check again."
Former Huddersfield defender Michael Hefele on Sky Sports Football:
"It's shocking. Huddersfield got robbed. The VAR is here. If you don't give the first penalty you have to give it because you know you made a mistake with the first one."
Cooper looks forward to a bright future
Nottingham Forest boss Steve Cooper on Sky Sports Football:
"I'm really happy for the players and the fans. I think we played well in the first half. And out of all the good goals we've scored this season, we get one like that – but it doesn't matter to us did it, everyone associated with this football club deserved it today and we look positively to the future.
"It's a relief, of course, but also pride. I love being at this football club. It changed my life. My family is here, the players' families are here – this football club is about belonging to a city. We took over Wembley today and are in the Premier League.
"This football club builds on positive eras of the past and we want to build on that. We're proud of that, but at the same time we have to think about what if?" Can we win the Premier League? Can we play attractive football? What if we can develop young players? And we did that by showing an attitude and a commitment not to be beaten. We deserve it.
"It's a glamorous world as a footballer and as a manager, but it's also a tough and hateful one. And I just wanted the players to know that I'll be their biggest supporter and I'll give them my all through thick and thin. That doesn't mean that I'm gentle with them or not asking anything of them, but everyone loves to be loved, that's what we tried to achieve with the players.
Corberan: I'm proud of my players
Huddersfield boss Carlos Corberan on Sky Sports Football:
"Of course it's difficult now because we wanted to come here and celebrate. My feeling in my final analysis of the game is that I can't criticize the team because we played really well, but unfortunately they had a chance and they scored ." We didn't have a lot of chances but we had a few moments to create a chance but we couldn't.
"It's not easy for the referees, even with VAR. I can only accept the situation [regarding the penalty shouts]. We have to recover first and then continue to work on the championship as a club. Today I'm really proud of the players I've worked with."
"Wald will do credit to the Premier League"
Stuart Pearce on Sky Sports Football:
"Forest will be a huge credit to the Premier League next season. Credit to Huddersfield but in the 90 minutes the better team won.
"The atmosphere in the stadium was incredible. I've never played in a Forest team at Wembley with that kind of atmosphere. You can see what it means for this football club. They've waited for this for so long. I'm very proud of them Perfomance.
"On a once-in-a-lifetime opportunity, this is a wonderful opportunity to get promoted, especially with the way Forest has done with its story. Now it's up to the manager and the player to write the next chapter in the club's history."
Worrall: I'm proud of everyone
Nottingham Forest captain Joe Worrall on Sky Sports Football:
"I'm just so proud of the players, of the staff, of the fans. We've been fantastic all season and I think we were really unlucky not to be promoted automatically. We played honestly and we play the right thing." Path.
"We've been really good, and not just this season – I'm not saying we've been good in previous seasons because we've been shit – but it took a long time. This club hasn't been in the top division for a long time and I've seen a lot of good people come and go, all of whom have contributed to this football club. It is a great honor for Captain Forest."
What's next?
Matches for the 2022/23 Premier League season will be released on Thursday 16th June. The EFL games will take place on Thursday 23rd June. You can follow both days' announcements on Sky Sports.