Fri, 06/03/2022 – 4:15 p.m | By: NCS4 staff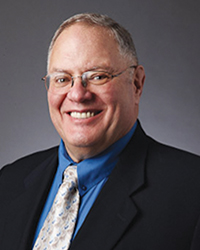 Peter Kranske, CSSP, President and Chief Operating Officer of Landmark Event Staffing Services Inc., will be presented with the Lifetime Achievement Award during the 2022 National Sports Safety and Security Conference & Exhibition June 28-30 in Orlando. The event is organized annually by the National Center for Spectator Sports Safety and Security (NCS4) at the University of Southern Mississippi.
The Lifetime Achievement Award recognizes the long-term achievements and contributions of an individual who have earned the respect and admiration of professional peers in the sports safety community. The award was designed to recognize exemplary talent and contribution demonstrated through an individual's dedication, loyalty, ability and integrity. The award is sponsored by the Meridian Rapid Defense Group, which provides SAFETY Act certified barriers to major sporting events across the United States
"It is an honor to be recognized by NCS4' said Kranz. "Landmark was with NCS4 from the beginning, and we appreciate the mission and the ongoing development of NCS4 into the crowd management and event security industry."
A pioneer in the crowd management industry, Kranske was the owner and officer of Contemporary Services Corporation for nearly four decades. During that time, he was responsible for field service at thousands of events at venues across the United States. During his tenure, he has developed and directed security and crowd management programs for almost every type of sporting and entertainment event.
"Peter fully deserves this honor as it reflects an extensive and impressive career in the events staffing industry," said Dr. Stacey A Hall, NCS4 Managing Director and Professor of Sports Management. "As a successful business leader, Peter's vision and dedication helped transform his company into a major player in the events staffing space, which plays a significant role in keeping spectators and attendees safe at events across the country. Peter visits NCS4 Events since its inception and continues to be a valuable supporter of our mission."
Some of the highlights of his career have included directing crowd management operations for 29 consecutive Super Bowls and NFL International events; Directed contracted security for numerous college bowl games and NCAA championships, including the BCS championship; and overseeing the crowd management and security program for five US venues for the 1994 Soccer World Cup and the 1999 Women's Soccer World Cup in Los Angeles. Kranske also led security and crowd management operations for the 1984 Jackson Victory Tour and crowd management operations for the "US 93" concert, which drew over a million people. In 2004 he was inducted into the Events Industry Hall of Fame.
Kranske developed the crowd management and security plans for numerous new or remodeled arenas and stadiums. After September 11, 2001, Kranske was appointed by the NFL to the Commissioner's Task Force on Stadium Security Best Practices and asked to chair the NFL Stadium Security Training Subcommittee. In this position, he led the original NFL Best Practices training program and made a significant contribution to it. He has been a safety and crowd management advisor to the NCAA Final Four, the Pac-12 Conference and Wal-Mart Stores, Inc. He has also consulted with the NHL on their Winter and Heritage Classics and served as a senior assessor -Profile cases. Kranske is a Certified Sports Security Professional (CSSP).
Since founding Landmark with Mike Harrison in 2006, Kranske has led Landmark's customer support and sales force in the United States. Landmark's operations have grown to 13 regional offices serving key facilities and events across the country, including major special events such as annual Super Bowls, NFL Drafts, NFL Combines, NFL Kickoffs, CFP Championships and NCAA Final Fours.
For more information about the conference, see http://www.ncs4.usm.edu/conference/ and for more information about the awards, see https://ncs4.usm.edu/about/ncs4-recognition-awards/.
---
About the 13thth Annual Conference:
The National Sports Safety and Security Conference & Exhibition will be held June 28-30 at the Omni Orlando Resort at ChampionsGate in Orlando. The conference will attract over 450 attendees and 70 exhibitors representing professional sports, intercollegiate athletics, interscholastic athletics, marathon and endurance events, sports and entertainment facilities and those providing safety products and services to the industry. For more information, see http://www.ncs4.usm.edu/conference/.
---
About NCS4:
Established in 2006, the National Center for Spectator Sports Safety and Security (NCS⁴) is the nation's only academic center dedicated to the study and practice of sports safety and security. The NCS4 is supported in part by grants from the Department of Homeland Security (DHS) and the Federal Emergency Management Agency (FEMA). The NCS4 mission focuses on three main pillars – education and training, research and public relations. Learn more about NCS4call 601.266.6183 or visit ncs4.usm.edu.