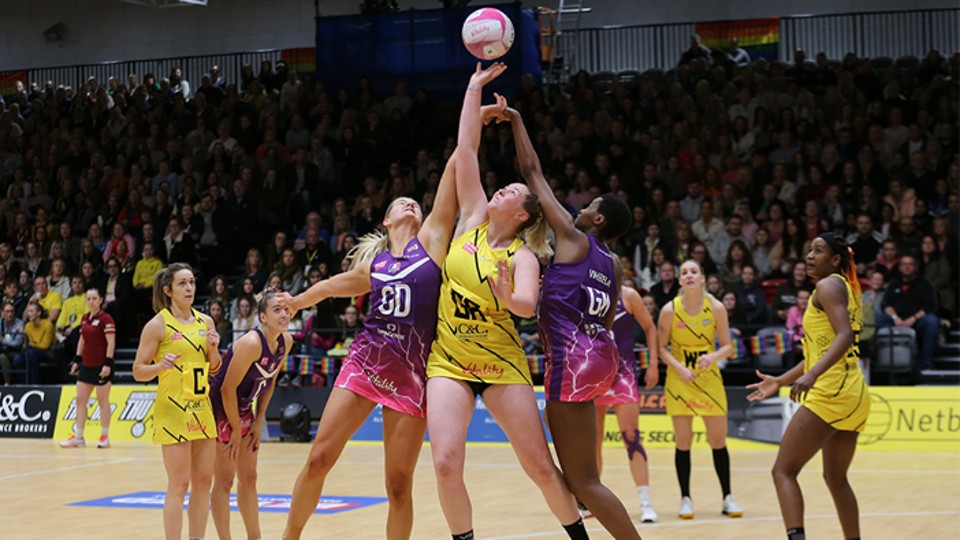 Loughborough Lightning Netball suffered a disappointing 63-71 defeat by Manchester Thunder in a top-flight game on Monday night.
For the final round of the 2022 Vitality Netball Superleague (VNSL) season, Lightning traveled to the Northwest to face the league leaders and the league's only undefeated side. Both sides had rich histories of upsetting one another in the cup runs and had plenty to gain in the round's final game, with Thunder trying to maintain their clean record and Lightning trying to create excitement and an outright win to win over their opponents. Known for their loud and proud crowd, Lightning teamed with Thunder to celebrate PRIDE Month with a rainbow-themed extravaganza match.
The opening quarter left no time to lie down as both sides converted every single pass into the middle to level the score most of the time. While Thunder's Nat Metcalf treated her home crowd to pinpoint feeds, Lighting was quick to retaliate with her famously confident duo of Clark and Cholhok, who kept finding the web. With two minutes left, Vitality Roses defenseman Fran Williams stole an interception to give Lightning an opportunity to go two up. Thunder soon saw an end, however, and finished the quarter with just a margin.
Quarter 1: Loughborough Lightning 19 – 20 Manchester Thunder
With both teams keen to continue in the second quarter, Joseph and Panagarry worked tirelessly to get the ball through the court to Clark and the recently returned Cholhok, who missed the pivotal rounds of the 2022 season through injury. Equally impressive at the other end of the pitch, South African and Lightning defender Zan Vimbela found himself going head-to-head against fellow Africa Cup of Nations competitor in Malawi's Joyce Mvula, who seamlessly plucked a ball from the air from afar, only to go to put it on the web. In the final minutes of the first half, substitutes Emma Thacker replaced Ella Clark to bring a fresh approach to Lightning's firing range.
Halftime: Loughborough Lightning 35 – 39 Manchester Thunder
Head coach Vic Burgess made changes for the second half, moving captain Nat Panagarry to wing defense given Beth Cobden's absence through injury, while Hannah Williams stepped up to center. Alice Harvey, who also received the nod, entered the keeper in place of Zan Vimbela. Lightning quickly found her groove and with interceptions from Williams, Lightning soon pulled the score to one. Unwilling to give the visitors any leeway, Donner soon struck back again, and with the re-injection of Mvula on the scorer, Thunder once again led the way.
Quarter 3: Loughborough Lightning 50 – 55 Manchester Thunder
In the final quarter, head coach Vic Burgess turned the bench again. To give her side a break ahead of Friday's semi-final against London Pulse, Ella Clark returned to the pitch, this time as a goalscorer, and Suzie Liveverseidge entered the wing attack point, giving Hannah Joseph a well-deserved break. Ella Bowen also returned to the court for the last fifteen, joining Alice Harvey in the defensive circle to keep Thunder on his toes and add a new layer to Lightning's campaign. Not having time to adjust to their new combinations, the home side moved on. They gathered their last energies to continue in the final moments of the game and extend their lead to claim victory and maintain their undefeated record when the final buzzer sounded.
Full-time: Loughborough Lightning 63 – 71 Manchester Thunder
Head Coach Vic Burgess on her team's performance:
"It was a very competitive game, there was a certain momentum that we could have used better to move forward. But there are definitely positive things to take away from the game, we have some really good combinations out there and there's a lot we can learn going into the semifinals.
"For us it was an opportunity to give some players a break, get some young people out and really try what works and what doesn't. I'm glad we got through the game and in the end there's a lot to learn and take home. Now on Friday it's all about taking that information and using it to get over the line."
Lightning are back in action with just 4 days to go as they welcome fellow top four club London Pulse to their semi-final match at Loughborough University. While Thunder hosts Team Bath for the first semi-final at 18:30, Lightning will take to the court LIVE on Sky Sports at 20:00. Catch all the action live by securing your seat at Lightning's final home game of the season. Tickets sell out fast, so don't miss out!
Buy tickets here.
Be sure to follow @lborolightning on Twitter for all the live action.