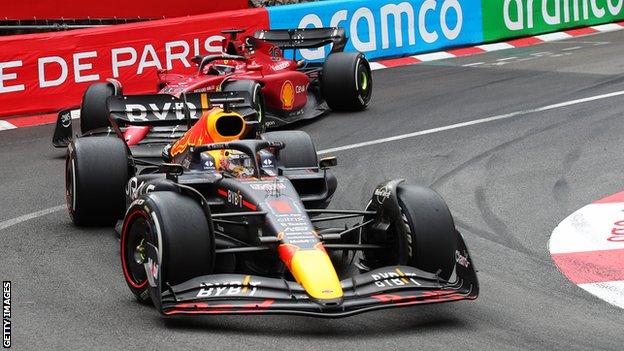 Charles Leclerc didn't mince words after Ferrari turned victory into defeat with a series of strategic mistakes at the Monaco Grand Prix.
"Disappoint is not the right word," he said. "Sometimes mistakes can happen – but today too many mistakes happened.
"I'm used to coming home disappointed, but we can't do that, especially at a moment when we're extremely strong now.
"We have to take chances. I love my team. We will come back stronger but it hurts a lot.
"We can't afford to lose that many points. It's not even going from first to second, it's going from first to fourth because after the first mistakes we made one more."
Leclerc's disappointment was on two different but interconnected levels.
Firstly, he had just seen a comfortable win at his home race slip through his fingers due to a series of strategic mistakes by the team.
Second, he had just lost more points to title rival Max Verstappen. Four races ago, Leclerc was 46 points clear in the championship. The Dutchman is now nine points ahead, Red Bull has won four races in a row.
Defeat from the clutches of victory
Red Bull should never have tasted victory in Monaco. Ferrari had closed the front row, giving them a track position on a circuit where overtaking is all but impossible.
The rain at the start, combined with a series of confusing work steps by the umbrella organization FIA, made things more difficult. But when Leclerc took the lead, followed by teammate Carlos Sainz, Ferrari could have stayed there – especially as Leclerc was steadily pulling away at the front, seemingly unassailable.
As the track dried out in the early stages, the correct strategy in their position would have been to stay on the extreme rain tires they entered the race on until it was time to switch to slicks.
But after Red Bull brought Sergio Perez into the pits for intermediate tires and started setting fast times, Ferrari responded with Leclerc two laps later. It was too late – when Leclerc came out of the pits, he was behind Perez, but ahead of Verstappen.
At this point, Ferrari still had a chance of winning – but not with Leclerc. Now Sainz was leading, having overruled Ferrari's call to bring him in for intermediates and saying he wanted to stay out and go straight to slicks. This time it was sheer bad luck that ruined her.
Sainz pitted for slicks five laps after Perez pitted for Inters. He would have kept the lead but he hit Nicholas Latifis Williams on his lap from the box.
Sainz questioned why Latifi overtook him when the Ferrari came out of the pits instead of pushing in behind him. On one occasion, Sainz lost 1.5 seconds before he could overtake the Williams – and Perez, who stopped on the next lap, came out just 0.8 seconds ahead.
Meanwhile, Leclerc's race was getting worse and worse. Ferrari also stopped him on the same lap as Sainz because of slick tires – by mistake. They called him in and then told him to stay outside, but it was too late; Leclerc was already in the pit lane.
Had he stayed out he would have finished third, but the time lost in the pits and gained by Verstappen on the track shot the Dutchman up.
"I don't understand why we changed our minds," said Leclerc. "We were undercut and then got stuck behind Carlos [Sainz]. There were a lot of mistakes and we can't afford that.
"The first [radio message for the first pit stop] was a clear decision and a very wrong one. From that moment the chaos began.
"I don't know if it was panic – I don't hear all the background material between the team so it's not up to me to judge.
"The last message I had wasn't clear because I was told to come in and then stay out, but I was already in the pit lane and that's when I said it over the radio and I yelled it because I knew it was was done."
In short, Ferrari had lost the lead to Leclerc by putting him in the pits when it wasn't necessary. Had he stayed out on extreme wet tires he would have been in the lead, with Sainz and Perez behind him and with all three having to stop for dry weather tires – a position from which a Leclerc win was quite possible.
Then when the lead was gone they called Leclerc again as they should have missed him again, with track position above Verstappen, again both had to stop again.
"We made mistakes in our assessment," said Ferrari team boss Mattia Binotto. "We could have won the race today."
Why did it happen?
"It was a complex situation," Leclerc said, "and we're going to have a few meetings over the next few days to understand that. It's a bit early to discuss that now."
Red Bull's aggression is paying off
Despite Ferrari throwing the race away, Perez drove brilliantly with the strategy chosen by Red Bull. And Verstappen's third place was thanks in no small part to a very fast in-lap before his last stop. Third and fourth in the first stint had finished first and third – all because their aggressive decisions had triggered mistakes from Ferrari.
"Charles seems to have everything pretty much under control in the first laps and also had his teammate's buffer behind him," said Red Bull team boss Christian Horner. "At that point it looked like Ferrari had the race in the bag.
"I thought maybe we could get one of them. I didn't think we could get both. And obviously we capitalized on their mistake.
"It's a process but you have to communicate effectively and clearly and as a pit wall we had all the information and we used the information well.
"We considered whether, like Lewis, we should switch directly from extreme to slick [Hamilton] did [to win in 2016] But we decided it was quicker to go through the intermediate round and the power of the out lap was tremendous. Checo absolutely nailed it."
"I've always been proud that we're an attacking racing team and we've always focused on doing the basics well. Whether it's strategy or pit stops, think fast, and today was all about thinking fast and reacting to the situation you're in."
A post-race scare, when Ferrari protested both Red Bulls for crossing the pit exit after the second stop, was brief – both were turned away.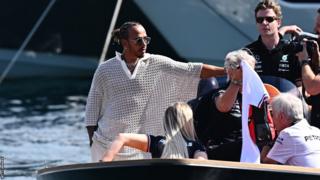 Hamilton traveled to the race by boat in the sunshine
Questions about race management
The race was abandoned after just 64 of the scheduled 78 laps due to a series of weather-related delays.
Many felt the race could have started on time as the rain wasn't too bad at the time, but race director Eduardo Freitas decided not to continue because he saw a huge downpour coming.
Better to wait until that is clear, he thought, than to start the race, hit it and then have to stop it, most likely after a huge accident.
Afterwards, however, the teams had a number of questions about his decision-making.
Why, they wondered, when you have to mount your tires five minutes before the start and it takes two minutes to mount your tires on the grid, the FIA ​​only gave a nine-minute warning that for the first extreme rainy weather would be required trying to start the race?
This resulted in 100 people running around like headless chickens trying to find tires. The teams complained about safety concerns, and Freitas gave them an extra 10 minutes to prepare.
At the second start, 20 seconds after the deadline for fitting the tyres, he called for extreme rain and a safety car start. There was an explanation for this – a power failure had affected the start lights, so the planned standing start had to be abandoned.
"It needs a bit of review," Horner said. "It was a bit chaotic with tires coming onto the grid, from the grid. It's a pretty busy grid here and getting ahead of the weather is always a bit dangerous.
"You can argue both ways. You can argue that we should have started the race and then reacted to the downpour and brought the safety car to us or stopped the race, but I think it needs a little review."
These decisions come in the context of ongoing dissatisfaction within F1 over the way the FIA ​​is conducting the sport.
As previously reported here at the Miami Grand Prix earlier this month, commercial rights holder F1 is actively considering ways to ban the FIA ​​from conducting the sport.
Concerns remain about the consistency of stewarding decisions.
Sainz couldn't understand in Monaco why he was punished quite a bit for the obstruction, but not others for this and other offences.
FIA President Mohammed Ben Sulayem has still not given an answer on the number of sprint races for 2023 after blocking an agreement between the teams and F1 to increase it to six. And Sunday's events will have done nothing to halt the slide in relations.
However, Horner was diplomatic after the race.
"There have been changes [since the controversial end to last season]' he said, 'but race officials are doing their best and certain things are a lot clearer this year. There are a lot of new people in the system and it inevitably takes a bit of time to settle in."