Mornington sailors received grants from the Victorian Institute of Sport
by Mornington Yacht Club May 27 10:35pm PDT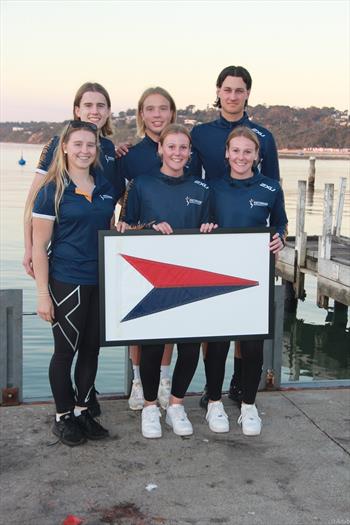 Back row: James Jackson, Lachie Weber and Jack Eickmeyer. Front row: Sophie Jackson, Lily and Matilda Richardson © Andrew Weber

The Victorian Institute of Sport has announced the winners of its 2022/23 Victorian Youth Scholarship Program and six of the recipients, out of a total of 18, are members of the Mornington Yacht Club. The scholarships are awarded to talented athletes based on national and international merit, and MYC's over-representation is a testament to its successful training and development program.
Three of the six will now become part of the Australian Sailing Futures Program which recognizes their potential to become Olympic sailors in the next 4 to 8 years. Recipients have access to coaching support and the training program includes regular exercise at the gym, medical and physical therapy services.
The scholarship recipients are:
Jack Eickmeyer (17 years old), who will represent Australia at the World Youth Championships in the Netherlands this winter.
Lachie Weber (17) ran just behind Jack in the Lasers class to select our representative for the Youth Worlds.
Sophie Jackson (22) was a leader in the club's sailing training program and is a former world champion in the aero class. As a member of the Australian Futures Program she is sailing a number of World Cup events in Europe over the winter with the aim of reaching Olympic selection in the 470 mixed dinghy class.
James Jackson (17) has been named Australian Youth Sailor of the Year 2021 and former national title holder in the 420 class by Australian Sailing.
Lily and Matilda Richardson (19) former Australian representatives at the World Youth Championships. They now sail in the 49er FX Olympic class as members of the Australian Futures Program and will compete in a number of World Cup events in Europe over the next few months.
In addition, Mornington Yacht Club recently won the final of the Sailing Champions League Asia Pacific Team Competition and will now be fighting for the World Championship title in Germany later this year. The crew consists of two male and two female sailors and Mornington's team consists of James, Jack, Lily and Matilda.
Although these young sailors aspire to the pinnacle of the sport, the club has initiated programs to get young and old alike experiencing the pleasures of sailing, from the innovative TrySail, a free introductory session for 8-10 year olds, to want to hop off this one on a Thursday night for a fun race for the "sticks" on a keelboat.
Contact Mornington Yacht Club on (03) 5975 7001 or visit www.morningtonyc.net.au for more information on the wide range of sailing options available.